Biography
Simon Lewis was the winner of the Hennessy Prize for Emerging Poetry and the runner up in the Patrick Kavanagh Poetry Award in 2015. He also featured in Poetry Ireland's Introductions Series the same year. He has been shortlisted for the Shine/Strong Award, Listowel Poetry Prize, Strokestown International Poetry Prize and Bridport Prize and received commendations in the Gregory O'Donoghue prize and Dromineer Literary Prize.
He has also been published in many literary journals and magazines including The Stony Thursday, Boyne Berries, Literary Orphans, The Stinging Fly, Bare Hands, and Irish Literary Review. His first collection, Jewtown, was published in 2016 by Doire Press.
Simon lives in Carlow with his wife, Rozz, and their lovely son, Emrys. Simon works in Carlow Town as the principal of the local Educate Together primary school. He is well known in education circles for his views on technology in education and has written several publications in this field. He also cares passionately about equality, particularly in education, and campaigns for equal opportunities for children in schools.
The header image is a photograph of Simon standing outside South Terrace Synagogue in Cork City. The photograph was taken by the well-known Irish poet, Thomas McCarthy, who kindly gave Simon a tour of Jewtown in 2014.
Highlights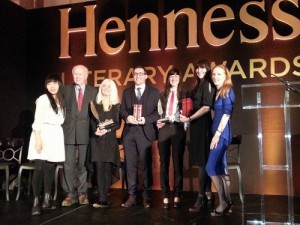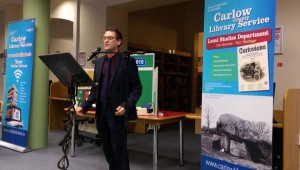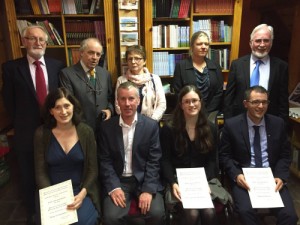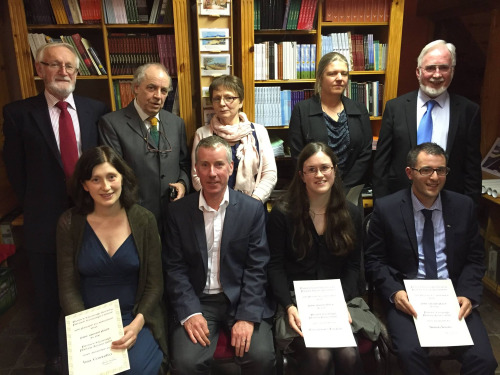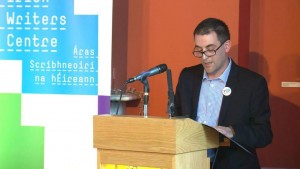 History
2019
Honourable Mention in Tom Reid/Margaret Howard Poetry Contest
Review published the North Magazine
2018
Two poems from Jewtown featured in a publication called Irish Questions & Jewish Questions
2nd place in Allingham Festival Poetry Competition
Commissioned to write poem for 20th anniversary of Kilkenny Education Centre
Published in: Poetry Ireland Review, Blue Nib, Algebra of Owls, Flare
2017
Commissioned by IPPN (Irish Primary Principals' Network) to write poem for 100th issue of their magazine.
Shortlisted for Fortnightly Prize by Eyewear Magazine
Runner-up in Blue Nib Chapbook Contest
Prizewinner in the Troubadour Poetry Prize
Featured on the Poetry Trail during Limerick Poetry Month
Shortlisted for the Shine/Strong Award and Strokestown International Poetry Prize
Launched the exhibition Representations of Jews in Irish Literature for Ulster University in Waterford IT
Published in the following journals: Honest Ulsterman and Blue Nib.
2016
Featured at the West Cork Literary Festival and Hay Festival
Featured Reader at Wexford Fusion Poetry
Commissioned by Centre for School Leadership to write a poem for mentoring programme
Selected to read at the Gregory O'Donoghue Prize Giving Ceremony
Longlisted for Dermot Healy Poetry Prize
Published in the following journals: Pankhearst, Bare Hands, The Stinging Fly and Penny Dreadful.
2015
Highly commended in Gregory O'Donoghue Prize
One of three readers at the October Double Shot Poetry Readings in Books Upstairs, Dublin with Mary Madec and Kevin Higgins.
Launched Carlow County Libraries, Penfest writing festival on 11th September. He read poems from his collection Jewtown with a number of talented local writers.
Won the Hennessy Emerging Poet Award through New Irish Writing.
Came joint second in the Patrick Kavanagh Award.
Featured at the Dublin International Literary Festival for the Poetry Introductions Series.
Published in the following journals: Original Irish Writing, Blue Max Review, Literary Orphans, The Stony Thursday Book and Spontaneity.
2014
Shortlisted for the Listowel Poetry Prize and Bridport Prize
Received special commendation in the Dromineer Literary Prize and the Patrick Kavanagh Poetry Awards.
Published in the following: Irish Independent (New Irish Writing), Boyne Berries, Deep Water Literary Journal, Fermoy Festival Blue Max Journal, Silver Apples Magazine, Irish Literary Review and Cyclamens and Swords.
2013
Commended in the Gregory O'Donoghue Prize.
Published in the following: Skylight47 and New Planet Cabaret.